The original Desert Storm by Joe Bardales (left) and Hero Pack 1 Desert Storm by Dan Houser (right)
One of the coolest added bonuses you can get in an ICONS product are cut-out "standees" - paper minis that you can use in your game to represent your character and the villains they must bring to justice. The first set of standees were given as a bonus incentive to anyone who pre-ordered the
ICONS Superpowered Roleplaying
game from Adamant Entertainment, and additional sets were included with the
Hero Pack
I
and
Hero Pack II
supplements. Even third party publishers that support ICONS are getting in on the act -
Rhinotaur has a free set of paper minis
featuring their
Hero Happy Hour
heroes and villains, and Vigilance Press has started including them in their products as well (
Action Scenes: Museum Mayhem
and most recently
Devilish Duos: Smoke and Mirrors
). All you have to do is print them out on card stock from a color printer, grab a pair of scissors and start assembling.
I grew up loving action figures (especially anything for
Star Trek
or
Planet of the Apes
from Mego), and some of the first ones I owned (after GI Joe) were the superheroes from DC and Marvel that
Mego
made in the 1970s. Action figures played such an important part in my childhood that they are one of my fondest memories of being a kid. For me, it's that sense of nostalgia that adds to the appeal of using ICONS standees in a game session, beyond their practical in-game use.
Naturally, it was only a matter of time before I decided to start making some of my own ICONS standees for my games.
I started with a very easy to use page layout program, Serif PagePlus, and created a single blank standee on a single page using the shape and line drawing tools. The entire standee was 120 mm long and 30 mm wide. The front and back portions each measured 40 mm in length, and each half of the base took up 20 mm length. I based my measurements on the standees I had from published ICONS products. Once I had my prototype standee, I copied it and pasted multiple instances of it on the page - I was able to arrange two rows of five standees each on a standard 8.5" x 11" sheet of paper.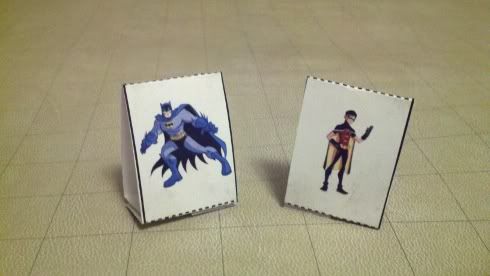 The Dynamic Duo
I grabbed images of the supers I wanted from various sources online* (Google image search as well as heroes I designed myself in online programs like
Hero Machine
and
Fábrica de Heróis
). I opened them in
GIMP
(a free alternative to PhotoShop) and cleaned them up and scaled them to the sizes I needed. I then took those images and created a black silhouette to use on the flip side of the standee (I also "flip" the black silhouette on the vertical axis). I went back into the PagePlus file with my blank standee templates and added the color images and the matching silhouette image to the standee. Once I filled up all ten slots, I created a PDF file from PagePlus, and then used this PDF to print out my standees on cardstock on my color inkjet printer.
And on the flip side...
It's a fun little project that isn't too difficult to master, and the kids especially enjoy making their own standees. If you've done something similar, I'd love to hear about it - what software you used, any tips for constructing and storing standees, etc. Please feel free to comment below and share your tips. And if folks think the PagePlus blank standee template might be something useful, let me know and I'll try to find a place to upload it for sharing.
Thanks for reading!
*
It's important to respect the rights of artists and their ownership of their work. For this reason, I won't be sharing any standee PDFs containing images that I do not have the rights to use or the artist's permission to use.