Let's continue our roll call of Nedor superheroes from the Golden Age of Comic Books who are now
in the public domain
with the next member of the Golden Age Throwbacks:
Doc Strange
. In many ways, Doc Strange is similar to the other heroes we have examined so far (i.e. his powers, beautiful girlfriend and male teenage sidekick) but with two notable differences. First off, unlike most superheroes of the time and even many today, Dr. Hugo Strange does not have a secret identity and goes by his real name (although he prefers to be called by the nickname 'Doc'). In addition, the Doc Strange stories feature less of the "one-off" stereotyped (and expendable) Axis Powers villains we have previously seen but instead present themed, sometimes reoccurring nemeses with more fully developed personalities and motivations such as Electru, the Faceless Phantom and the Emperor.
DOC STRANGE
Origin
: None
Real Name
: Dr. Hugo Strange
First Appearance
: Thrilling Comics #1 [Nedor Comics February 1940]
ABILITIES
Prowess 4
Coordination 3
Strength 4
Intellect 5
Awareness 3
Willpower 4
Stamina 8
Determination 3
SPECIALTIES
Aerial Combat Expert
Criminology
Martial Arts Expert
Science Master (Chemistry)
POWERS
Ability Boost Device 8 (Strength) - Alosun Distillate
Flight Device 7 - Alosun Distillate
Invulnerability Device 4 - Alosun Distillate
Virginia Thompson
QUALITIES
Connections: Virginia Thompson (Fiancée)
Sidekick: Mike Ellis
Epithet: America's Champion
Motivation: Dedicated to crushing and defeating crime
Identity: Brilliant Scientist
CHALLENGES
Enemy: Axis Powers
Enemy: The Faceless Phantom
Enemy: The Emperor
Enemy: Electru
Weakness: Needs to regularly drink Alosun distillate for powers to work
Point Total
: 50
Mike Ellis
MIKE
Real Name
: Mike Ellis
Notable Stats
:
Ability Boost Device 7 (Strength) - Alosun Distillate;
Flight Device 7 - Alosun Distillate
Notable Aspects
: Connections: Doc Strange
ORIGIN STORY
Crime's Mightiest Menace!
Dr. Hugo 'Doc' Strange was a brilliant American scientist committed to finding a way to defeat crime, so he developed a powerful serum called Alosun by distilling atoms from the sun. By ingesting this Alosun distillate, Doc Strange was given the the powers of super strength, invulnerability and the ability to leap great distances. After years of developing the Alosun distillate, he was finally able to field test his discovery when he crossed paths with the Faceless Phantom who was attempting to steal a powerful Delta Ray Gun capable of stopping battleships. Doc Strange was engaged to Virginia Thompson, the daughter of the Delta Ray Gun's inventor Professor Thompson, and became involved when her father was kidnapped by the Faceless Phantom. Behind the skull mask, the Faceless Phantom was the secret identity of Commissioner Baxter who had developed his own secret super strength formula, but it was not as powerful as Doc's Alosun distillate so Doc was able to defeat him and rescue Virginia's father. Afterwards, Virginia often accompanied Doc Strange on his adventures.
The Faceless Phantom later returned with an improved super strength formula to rival the Alosun serum that had previously defeated him, but Doc had also been busy improving his own distillate and now had improved super strength and the ability to fly! The Faceless Phantom did return with one new power however - the ability to disappear in a cloud of purple mist. Doc Strange was able to use his expertise in chemistry to determine that the Faceless Phantom was using an ancient Egyptian chemical called 'Kalodin' to cause him to vanish and developed a reagent to counter its effects from an ancient manuscript. Doc Strange was finally able to defeat his enemy in battle once and for all when the Faceless Phantom, unable to fly like his rival, fell from an airplane.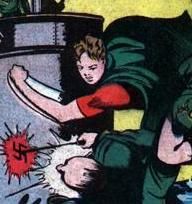 Later on in his adventuring career, Doc Strange met a young orphan named Mike Ellis who idolized him. Wanting to be just like his hero, Mike dressed exactly like Doc (although he added a green cape - his own heroic touch) and persistently followed him around. Doc Strange was reluctant to allow Mike to join him as his sidekick as he didn't have any super powers, but eventually relented. At first, Doc wouldn't allow Mike to drink the Alosun distillate as he felt he was too young, but eventually Doc Strange came to believe his ward could handle both the responsibility and physical demands, and Mike gained super strength and the ability to fly just like his mentor. Mike Ellis along with Virginia Thompson accompanied and assisted Doc Strange on his many adventures over the years.
In addition to battling threats from the Axis Powers during World War II, Doc Strange had several arch enemies. Electru was an eight-foot-tall gang leader who could shoot electrical bolts from his fingertips. The Emperor was a mad Asian genius bent on destroying the United States and World domination.
Doc Strange vs. The Faceless Phantom
REFERENCES AND FURTHER READING
Doc Strange was originally created by writer Richard E. Hughes and artist Alexander Kostuk and first appeared in Thrilling Comics #1 (February 1940) published by Nedor (a.k.a. Standard) Comics.