With this week's release of
The Amazing Spider-Man
#692,
Your Friendly Neighborhood Spider-Man
celebrates his 50th anniversary at Marvel Comics. I remember when Superman turned 50 back in 1988. That didn't really bother me because, after all, my father read Superman comics when he was a boy. But Spider-Man at 50? Yeah, I'm getting old.
For his Birthday, Spider-Man is finally getting
a sidekick named Alpha
. That's probably a much better present than the
Spider-Mobile
ever was.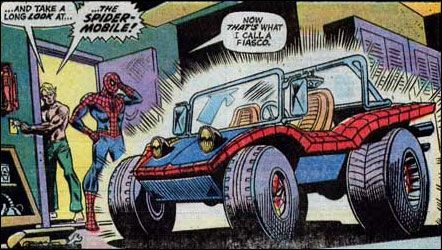 Spider-Mobile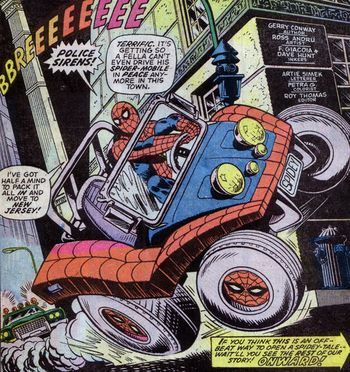 [Built from Vehicle power at rank 3]
Prowess 2
Coordination 3
Strength 3
Speed 4 (effectively Super-Speed 4)
Stamina 3
Extras:
Binding 6 - Front-Mounted Web Launchers
Refrences
:
Marvel Universe Wiki
Wikipedia
The Spider-Mobile is built using the ICONS Vehicle and Chase rules found in every issue of Justice Wheels from Fainting Goat Games.
50 years. That's a helluva long time to suffer from teen angst...
Happy Birthday, Spidey!
'Spider-Man' is a registered trademark of MARVEL COMICS and is used without permission. No infringement of the trademarks or copyrights of MARVEL COMICS or any other corporation, entity or person is intended by this article.