With Halloween just one day away, I thought I'd share an ICONS character conversion I did for the classic
Villains & Vigilantes
adventure module
TERROR BY NIGHT
written by Steve Crow and published by Fantasy Games Unlimited in 1985. This adventure takes place in a circus over the course of three nights and has a supernatural bent, perfect for that Halloween gaming session. Based on Steve Crow's original design and discussion in
TERROR BY NIGHT
, this villainous vampire is a little different from the
vampires I previously featured here at JUST ADD HEROES
in that it adheres to the vision Bram Stoker had of the creature in his novel
Dracula
, so much of the Hollywood take on vampires is absent. For example, Baron Von Heinrich can walk in sunlight (although his powers no longer function) and a stake through the heart will kill him.
Baron Victor Von Heinrich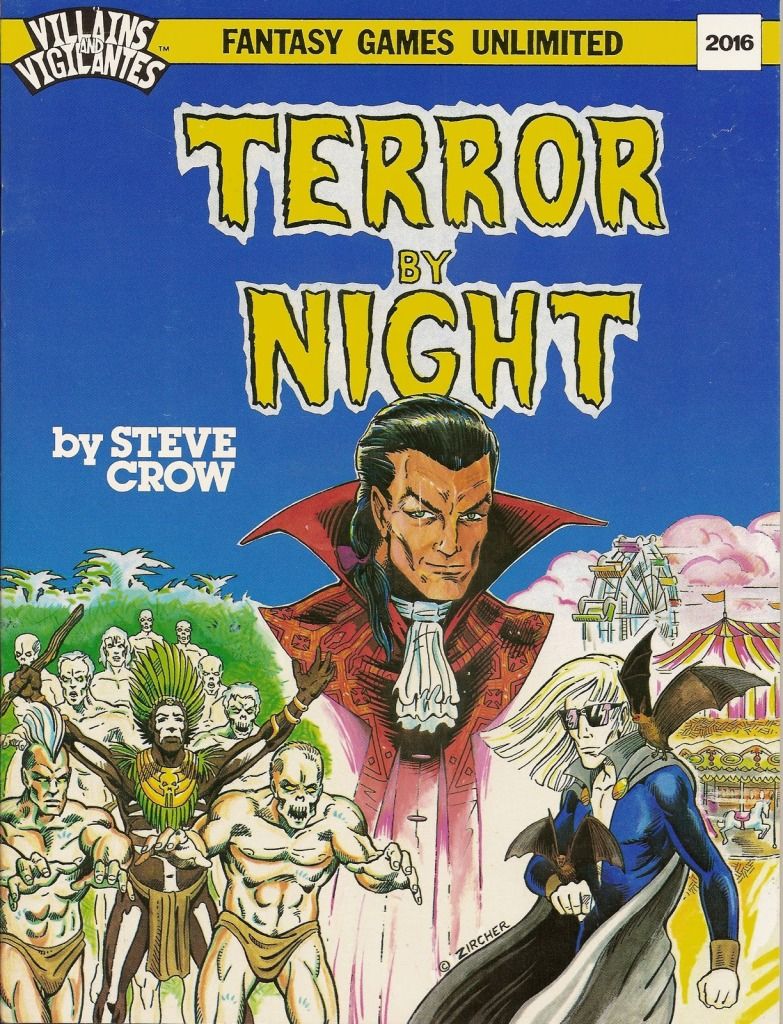 ALIAS
: Thomas P. Prest
ABILITIES
Prowess 6
Coordination 5
Strength 7
Intellect 5
Awareness 4
Willpower 6
Stamina 13
Determination *
SPECIALTIES
Animals - bats, rats and wolves
Deception Expert
History
Occult
Philosophy
Religion
Stealth Master
POWERS
Alternate Form 7 (Gaseous) - Mist
Animal Control 2 (Mammals) - bats, rats and wolves
Immortality
Life Drain 4
Life Support 10
Mind Control 7
Resistance 5 (Physical Damage)
Wall Crawling 2
Transformation 5 (Only particular type of shape) - Bat and Wolf

QUALITIES
Vampire (Undead)
Identity : Millionaire Circus Owner and Ringmaster
Old World Sense of Honor
CHALLENGES
Must drink blood to survive (Stamina only regained through Life Drain)
Vampiric Weaknesses: Destroyed by beheading or a stake through the heart (negates Immortality) but a stake that does NOT penetrate the heart causes an automatic Stun result instead that lasts until the stake is removed; silver weapons cause normal damage (negates Resistance); sunlight negates all powers; repelled by garlic and crosses
Thank you for reading, and Happy Halloween!