No, I'm not talking about
The Daily Show
,
The Colbert Report
, or even
FOX and Friends
. I want to share with you this cool little resource called
The Newspaper Clipping Generator
, which I learned about today indirectly from the
Miskatonic University Podcast
by way of the
Gaming on the Cheap Community on Google+
. This online app lets you create images of newspaper clippings that you can use as props or handouts in your roleplaying games. You supply the name of the newspaper (real or fictitious), a headline, and a short news story, and the image generator does the rest. The only thing noticeably missing is a byline, but hopefully they will consider adding that option in a future version. In the meantime, I suppose you could Photoshop or GIMP one in.
Metropolis has
The Daily Planet
, Spider-Man's New York City has
The Daily Bugle
, and Gotham City has
The Gotham Gazette
. In the soon to be released Stark City Campaign Setting, we have
The Siren
: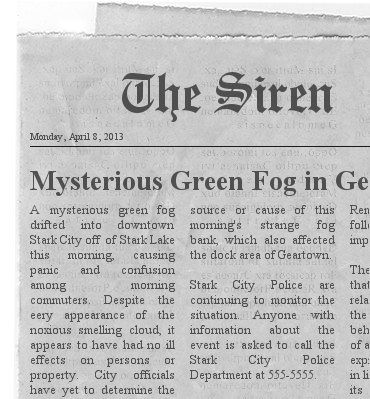 Well, you get the idea. See you in 48 for G (apparently they give us Sunday off for good behavior) and thanks for reading!